Students from Professor Nick Balster's Environmental Capstone class will be getting their hands "soiled" as they seek to prepare an important landscape design for Upham Woods Outdoor Learning Center just north of Wisconsin Dells on the Wisconsin River.
The area between the Upper Dells Education and Research Center and the river is ripe for a landscape redesign that doubles as an educational tool to teach Upham Woods visitors and potential researchers about the nearby Blackhawk Island. When Balster contacted Director of Upham Woods Amy Workman with an idea for his Environmental Studies capstone course project, Workman jumped at the chance to partner with his students.
"The area the students are focusing on isn't really being well utilized at present, but it has great potential to be transformed into a 'preview' of what visitors will experience on Blackhawk Island with some creative design, " Workman says.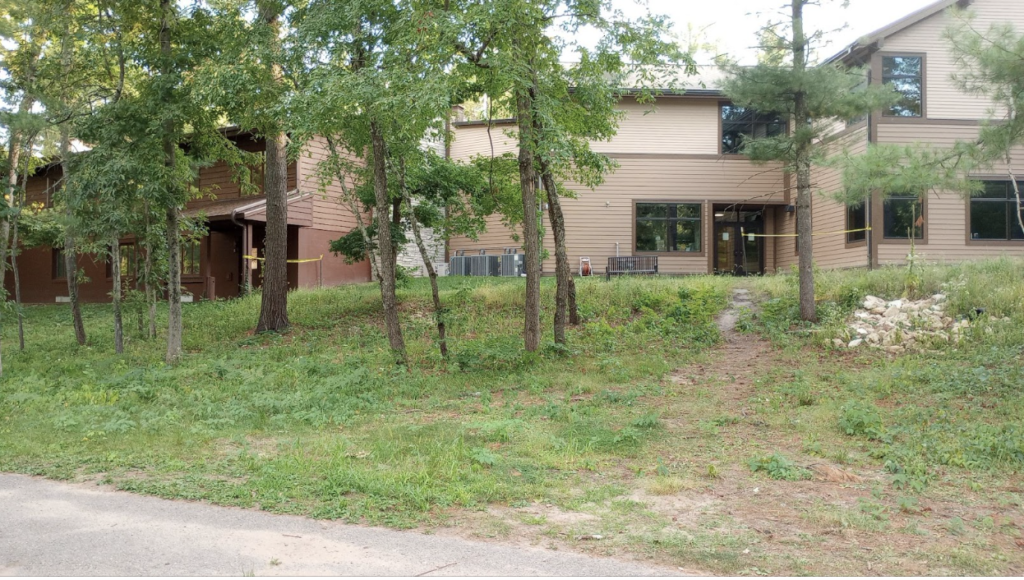 The Soils 499 Environmental Capstone class provides an interdisciplinary, applied problem-solving experience that utilizes principles from soil science, environmental science, and environmental studies to tackle a project and present a solution to a real world problem that incorporates principles from these three disciplines.
The students work in teams on researching the problem, conducting field investigations, evaluating the feasibility of approaches, designing the solution, and then presenting their plan.
The proposed question was, "How do we create a landscape design plan for a disturbed and neglected area that utilizes native pollinator plants to educate visitors about the natural resources present and research opportunities available on Blackhawk Island?" To Workman's delight, the challenge was accepted!
The capstone students have explored Blackhawk Island and the mainland at Upham Woods multiple times this fall and began taking site inventory including a soils analysis. Morgan Jensema has served as the class liaison between the folks at Upham and the capstone class.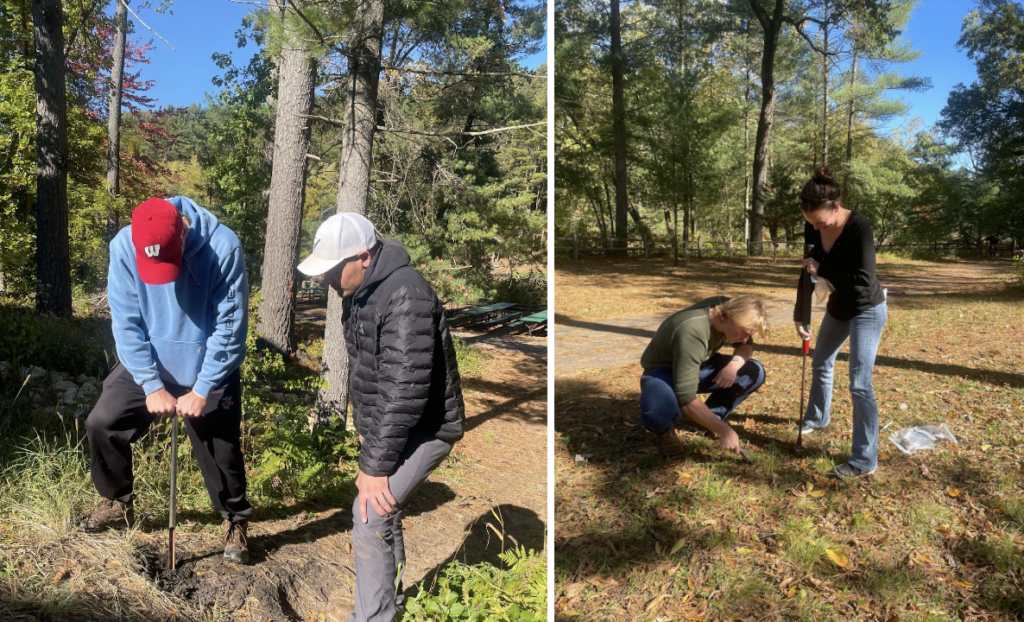 "Our full class got to see and experience Upham Woods and Blackhawk Island and it was great to finally see it in person! We definitely got a ton of great information and had fun doing it," Jensema said in an email statement to Natural Resource Institute. "We are all so excited to break ground on this project!"
One key question from the students was how to match the appropriate plants from the island site to Upham's mainland soil conditions. To answer that question, students took a variety of soil samples to compare the physical and chemical conditions of the soil and quickly discovered that some sampling areas were more compacted than others in the ~0.5 acre project area.
According to Jensema, the students are currently assessing soils collected from the field.
"Some of the things we are testing for are pH, texture, bulk density, nutrient content, organic matter, infiltration, and general measurements. This information is useful to get more detailed about a layout for the site," wrote Jensema.
Other conditions to consider for the landscape design are availability of sunlight, slope, accessibility, and water runoff and drainage. These variables are then integrated into the educational intent of the site via pollinator plantings.
When finished, students will present their landscape design plan to Upham staff, a satisfying conclusion for the student team and professor alike.
"This course integrates students with a variety of backgrounds, drawing on three majors at UW-Madison — Soils, Environmental Sciences, and Environmental Studies. So, finding a meaningful real-world project such as this is a true delight. I'm excited to see the product they produce and I thank Upham Woods for providing the project," says Balster.