What do we do?
Our instructional design team creates professional training materials in a variety of formats – from online courses to in-person workshops.
Why should you work with instructional designers when you're the expert?
As an educator or professional, you are a master in your field. You have knowledge and wisdom that has come from years of experience. Now, you need to pass on your expertise to your learners.
So, how can you convey your wealth of knowledge in the way that will best reach adult learners? How can you create training materials that prepare learners not only to temporarily know information but also to apply it in their field of work in the long term?
As instructional designers, we help subject matter experts like yourself develop training materials that promote learning that will last.
We make the content relevant and interesting for the audience.
Learners understand the importance of the training materials and how the materials can be immediately applied back on the job.
Engaging graphics, videos and interactive activities draw the learners in.
Scenarios simulate real-life situations that learners experience at work, allowing them to see the consequences of their choices and determine how to improve their performance.
Assessments not only evaluate learners' comprehension of the information but also help learners connect the new material to their own prior knowledge and experience.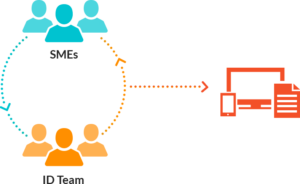 Subject Matter Experts (SMEs)
Share knowledge and experience with instructional designers
Collaborate with instructional designers to develop training materials
Instructional Design (ID) Team
Synthesizes information from subject matter experts
Organizes information into a logical sequence based on how adults learn best
Develops learning materials in face-to-face, blended or online learning modes
Instructional materials
That are tailored toward a specific group of learners for their on-the-job needs
Why choose our instructional design team?
Our instructional designers are experts in adult education. We each bring unique expertise, from knowledge of eLearning software to curriculum development. Together, we offer a collection of specialized skills for you to draw upon in meeting your project's goals.
Beyond our team of instructional designers, our position within our institute allows us to collaborate with our evaluators, graphic designers and editors. As a result, our training materials—
Have clear and meaningful graphics,
Are accessible to learners with varying needs, and
Guide learners to meet the exact learning outcomes needed for their work.
Contact Janice Kepka to discuss how our unit can support your work.
Examples of Recent Work:
In support of a new employee certification process, our team of instructional designers is developing 12 courses for the U.S. Department of Agriculture NRCS. The courses are targeted toward early-career conservation planners who work with farmers and landowners to ensure productive lands in harmony with a healthy environment. Additionally, we are creating a train-the-trainer support framework to enhance field training.
Highlights:
12 courses deployed on proprietary learning platform
Integrated effort with the NRI Evaluation and Marketing & Communications units
Here are a few work examples:
Educational Graphics
Training Videos from the Field
Teaching Through Stories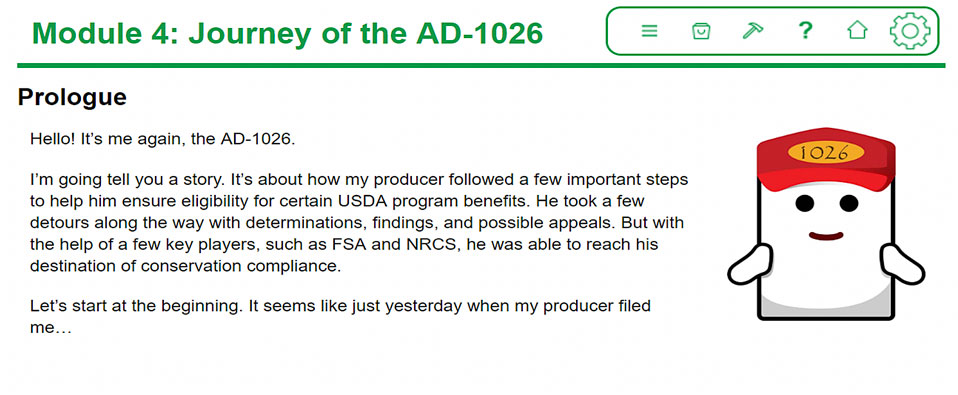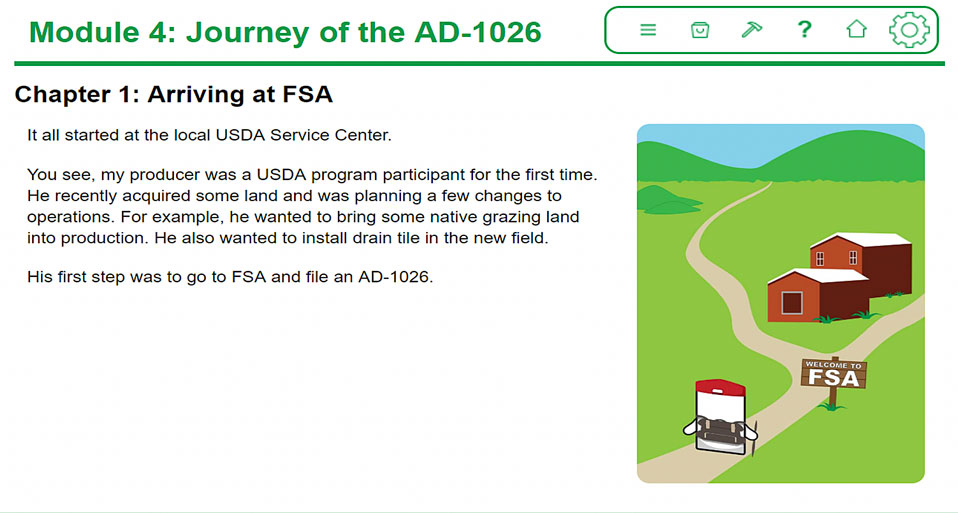 On-The-Job Scenarios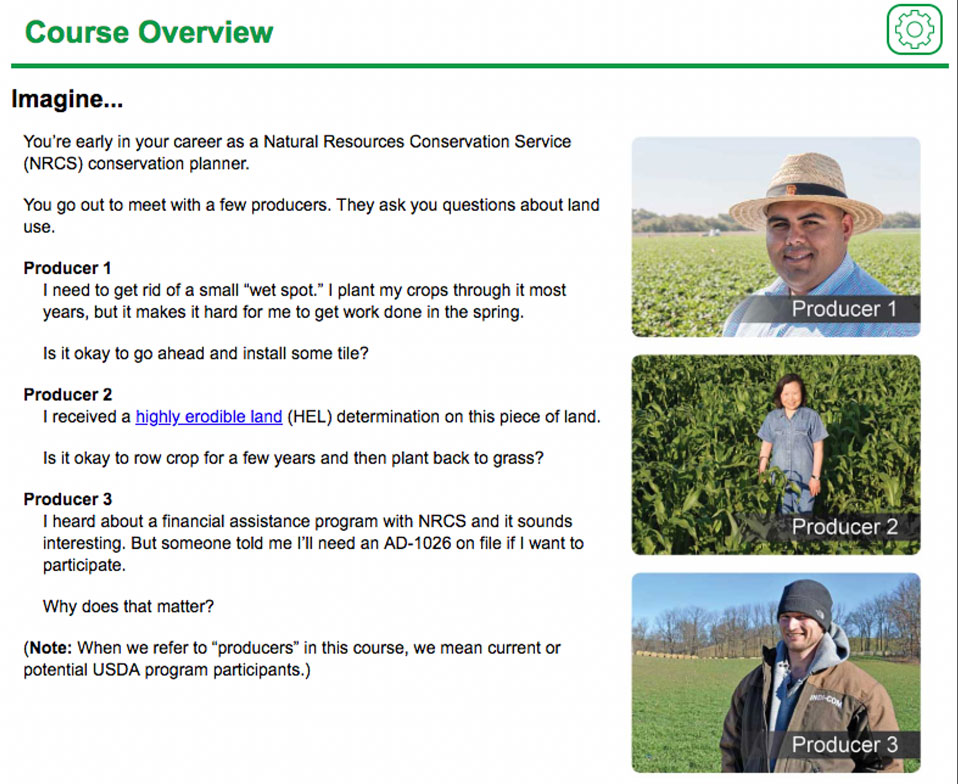 Our team of designers created a blended course (online, classroom and in-the-field) to train agency staff to screen for potential wetlands.
Highlights include the following:
Five regional wetland plant field guides
Customized instructor presentation for short in-class review
Field training guide for instructors
More than 600 staff trained during 26 field sessions across the country
Online course deployed on proprietary learning platform
Here are a few work examples:
Regional Field Guides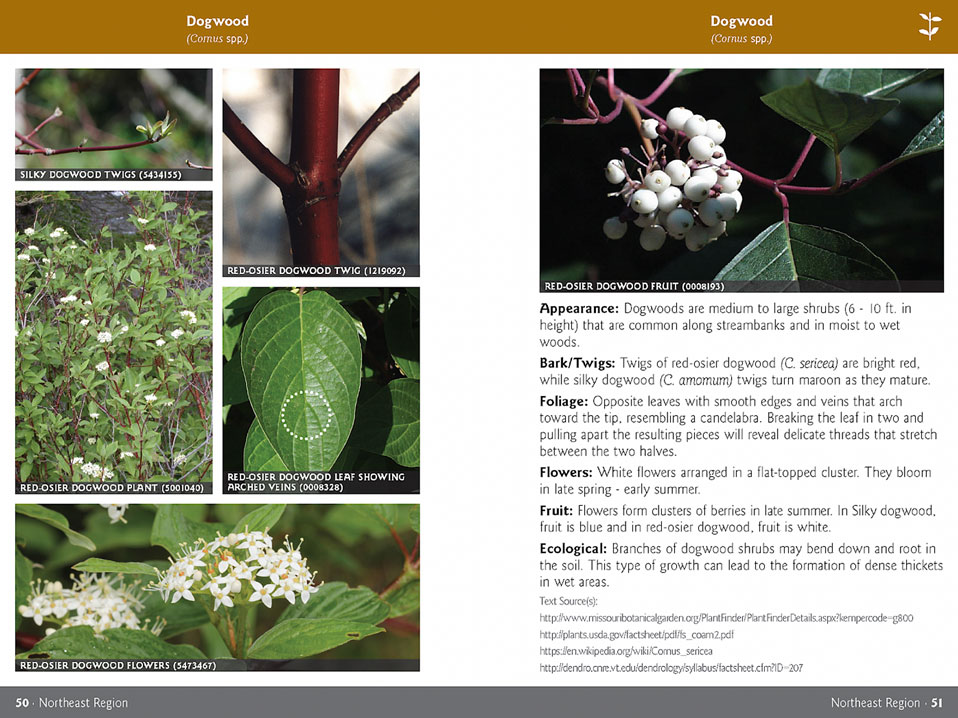 Instructor Presentation for Classroom Review Session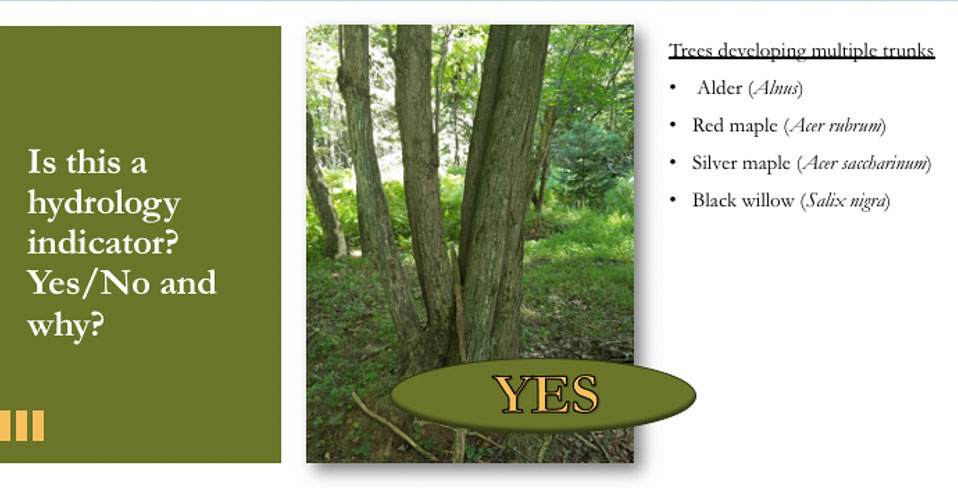 Hands-On Field Training
Online Course Navigational Aid

Service Rates
All Instructional Design Unit services are billed by the hour based on the following rates effective 7/1/23 to 12/31/23.
Internal and federal grants: $71/hr
External projects: $98/hr

Hourly rates will be reviewed and adjusted at the beginning of the next calendar year.
This page is optimized for printing