Wisconsin Extension Maple Syrup Program
Program Overview
Supporting the future of maple syrup in Wisconsin
The Wisconsin Extension Maple Syrup Program is a new three-year project supported by the USDA Agricultural Marketing Service (AMS) through the Acer Access and Development Program.
Focus areas:
Supporting sustainable forest practices of maple syrup producers, especially relative to climate change adaptation strategies
Providing resources and support to foresters and other advisors who work with maple syrup producers
Better understanding and supporting the needs of tribal communities in Wisconsin related to maple syrup production
Partnerships
Extension will partner with other statewide and regional organizations and programs to deliver the project including the Wisconsin Maple Syrup Producers Association, University of Minnesota Sustainable Forests Education Cooperative, UW-Stevens Point Wisconsin Forestry Center, Northern Institute of Applied Climate Science and the USDA Northern Forests Climate Hub.
Wisconsin maple syrup production
Wisconsin is currently fourth in the nation in maple syrup production, producing around 300,000 gallons of maple syrup at an annual value of around $9 million.
Wisconsin has 3.7 million acres of maple forests, and only a small fraction are currently being used for maple syrup production. As demand for maple syrup continues to grow nationally and internationally, there is great potential for growth in the industry.
Beyond the grant
UW–Madison Division of Extension hopes to be able to continue to support the maple syrup industry in the state beyond this initial project. Additional resources and research will be determined through this initial needs assessment and will be dependent upon available funding.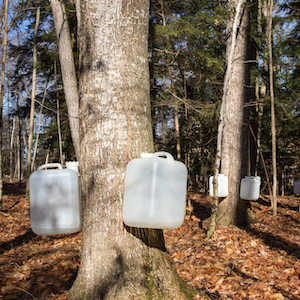 This page is optimized for printing