Center Overview
Environmental and Leadership Education for Youth and Adults
Upham Woods provides educational opportunities to youth, youth leaders and adults through programs focused on environmental and leadership education. Situated on the Wisconsin River, the center is uniquely positioned to provide outdoor education year-round through environmental lesson plans, summer camp programming, leadership workshops and other conferences.
History and Emphasis
Upham Woods is the result of an amazingly farsighted vision of two sisters from the Upham family. In 1941, when the United States was growing rapidly at the expense of its natural resources, Elizabeth and Caroline Upham decided to share their beloved childhood summer home and preserve it for future generations. These sisters laid the philosophical groundwork for Upham Woods with their stipulations of the land's use. They wrote: "These lands are to be used as an outdoor laboratory and camp for youth, such as 4-H clubs and other people cooperating with the University of Wisconsin in the advancement of conservation, of agriculture and rural culture."
Since 1941, Upham Woods has been a place where people gather to explore and experience the natural world. Early on, programs with Ranger Mac and Marvin Hanson introduced 4-H and school groups to the unique geology and forest communities of the area. Nature study was a main component of the program.
Today, the emphasis continues with even greater focus, as environmental issues have grown on a local and global scale. The activities at Upham Woods are designed to encourage youth leaders to address environmental issues with the goal being the development of caring and responsible stewards of the natural world and its inhabitants. Through Upham Woods' educational programming, youth obtain a unique view on how Wisconsin has changed ecologically and culturally. Youth are encouraged to explore Wisconsin's past to discover valuable lessons that will enable each of us to better plan for the future of Wisconsin and the world.
As you visit Upham Woods, you will find a model residential environmental education center operated by the University of Wisconsin–Madison Division of Extension. The center sits on a prime location on the Wisconsin River, two miles north of the Wisconsin Dells, offering an excellent "river classroom" to study both the natural and cultural history of Wisconsin. The center rests on 310 acres of forested land, including a 210-acre island called Blackhawk Island. This island has been designated a state natural area and offers a beautiful example of a mature mixed forest featuring flora not commonly found in the area. The island also has tremendous sandstone formations to explore, which were formed during the ice age. It's definitely a "different view" when you climb through them!
The facility consists of 14 buildings including a fully equipped nature center and a raptor enclosure housing educational birds of prey. The center supplies lodging for 200 people, meals and environmental education year-round for youth and youth leaders, including environmental lesson plans, summer camp programming, leadership workshops and other conferences. Upham Woods employs full-time teaching naturalists that live on-site throughout the year.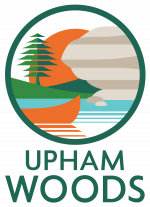 This page is optimized for printing