When natural disasters strike, we are reminded of nature's power to alter our lives and communities in profound ways. With such visible damage, it can be easy to forget nature also has the immense power to positively impact human health and well-being. Consider a simple walk through a prairie, a paddle down the Wisconsin River, casting a line off a dock or a hike to a favorite waterfall—even memories of these activities can have a positive effect on your physical health and mental well-being.
As the director of the Wisconsin Master Naturalist program, I have had the opportunity to see exactly how time spent in nature positively impacts individuals. I have a wall of thank-you notes describing the rewards of being in nature and networking with like-minded individuals. The notes discuss the sense of peace and calm that being in nature provides and the call to action it invokes to protect these places and teach others about their value.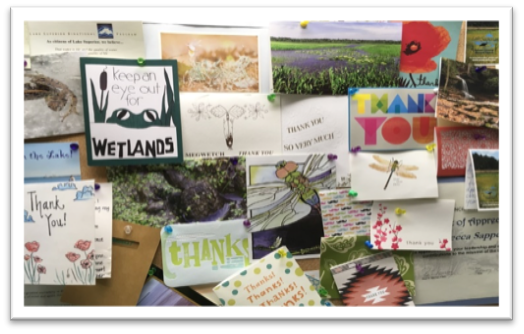 Science agrees. A study done at Stanford University and published in the Proceedings of the National Academy of Science showed that a 90-minute walk in nature had a greater effect on the area of the brain linked to mental illnesses than a walk through an urban area. The researchers suggest that having access to natural areas is essential for mental health. It's also important in building community. In their field studies at the Human-Environment Research Lab, Kuo and Coley found that spending time in an area with natural landscaping connects people in urban environments not only to a broader natural environment but also to their social community.
Exposure to nature can also benefit physical health. In his recent article on ecopsychology, Jim Robbins discusses how being outside can reduce blood pressure, heart rate, muscle tension and the production of stress hormones, which lessens anxiety and improves moods. Studies have even shown that exposure to natural materials like plants, trees and water can help people cope with pain and distract them from discomfort. And people are starting to take note. Robbins explains how this research is now reaching the ears of policymakers, employers and healthcare providers who are looking at ways to address the beneficial effects of spending time in nature.
This is not new knowledge. Researchers in the early 1980s looked at the recovery rates of patients whose rooms faced a courtyard versus those that faced a brick wall. Recovery rates for patients with a view of a courtyard were shortened, fewer negative comments were recorded by nurses and they needed less pain medication than patients without views to a natural environment.
Just last year, I reached out to a group of Master Naturalists who are also veterans and asked them about their connection to nature. The replies came quickly and represented a variety of ages, genders and life experiences. Their comments reinforced the research showing that spending time in nature can soothe stress, improve moods, expand thinking and bring more meaning to life.
Master Naturalist and Navy veteran Jim Killian said he always found his time spent outdoors to be healing, even prior to his military service. With more active involvement through the Wisconsin Master Naturalist program and his stewardship site restoration work at Kishwauketoe Nature Conservancy in Williams Bay, he believes his "nature time" has become even more important. Killian is an active volunteer in a variety of capacities throughout his community, but he says he finds his naturalist work to be the most meaningful: every moment spent out in nature is restorative to mind, body and soul alike. Robert Bennicoff, another Navy veteran and Master Naturalist, echoes Killian's point of view. "Being out in nature is incredibly important to me, my wife, children as well as grandchildren. It is an opportunity to 'turn the pump off' and let the sounds and sights of nature around me recharge my soul."
Our communities are strong with nature centers, non-profits, local and state parks and national forests that give us opportunities to heal ourselves on the trail, in the water, across the prairie and even in our own backyards. But the relationship between people and nature should not be one-sided. The natural world also requires care and maintenance. Programs like Wisconsin Master Naturalist are necessary because they support the health and wellbeing of both people and land while maximizing the symbiotic relationship between the two. Our rich natural world will help Wisconsinites make it through challenging times now and in the future as long as we continue to take care of it.
Becky Sapper is the program director for the Wisconsin Master Naturalist Program.