As Extension professionals and program affiliates, we spend quite a bit of time outdoors, whether it's for fieldwork, outreach, or recreation. While this means contributing to natural resources conservation, it also means being exposed to ticks. And tick season isn't quite over.
What's going on with the tick population in Wisconsin?
August signifies the halfway-point of tick season in Wisconsin. Susan Paskewitz, a professor of entomology at the University of Wisconsin–Madison and co-director of the Midwest Center of Excellence for Vector-Borne Disease (MCEVBD), explains that ticks have been on the rise in Wisconsin for more than a couple seasons.
"We've had this slow burn which we've seen in the tick-borne diseases where it was under the radar for a while," says Paskewitz. "But I think in the last 4 or 5 years, people have really begun to get some solid work out there indicating just what a huge problem this is, and how many people are impacted, especially here. You know, Wisconsin and Minnesota are hot spots in the Midwest[MW3] ."
Ticks tend to live in rural, forested spaces, but their ranges have reached backyards across Wisconsin. Paskewitz claims[MW4] that the increase in ticks can be explained by their migration over the state.
"Over the last 30 years, the ticks have really invaded from the western part of our state into all counties now. So, where before, in the eastern part of the state and the southern part, you had a hard time finding these ticks and really very very few records, that has changed a lot."
This also suggests that the increase in tick-borne diseases may be the result of their movements to new areas, where animal hosts carry diseases that ticks pick up and transmit.
Paskewitz explains that "all of the tick-borne pathogens originate in some kind of a wildlife reservoir. And then, when the ticks feed on those animals, they're picking up the pathogens and becoming infected themselves."
As a co-director for the MCEVBD, Paskewitz helps direct the Center's regional network of research and training resources. One of their main goals is to evaluate treatment and management techniques for tick prevention. From her research, she hopes to contribute to more robust tick safety measures.
Aligned with her mission is Xia Lee, the State Public Health Entomologist for Wisconsin's Department of Health Services. Lee monitors insects that carry pathogens, including ticks, and also researches tick-borne diseases for the University of Wisconsin–Madison. One of his main research sites is Extension's Upham Woods.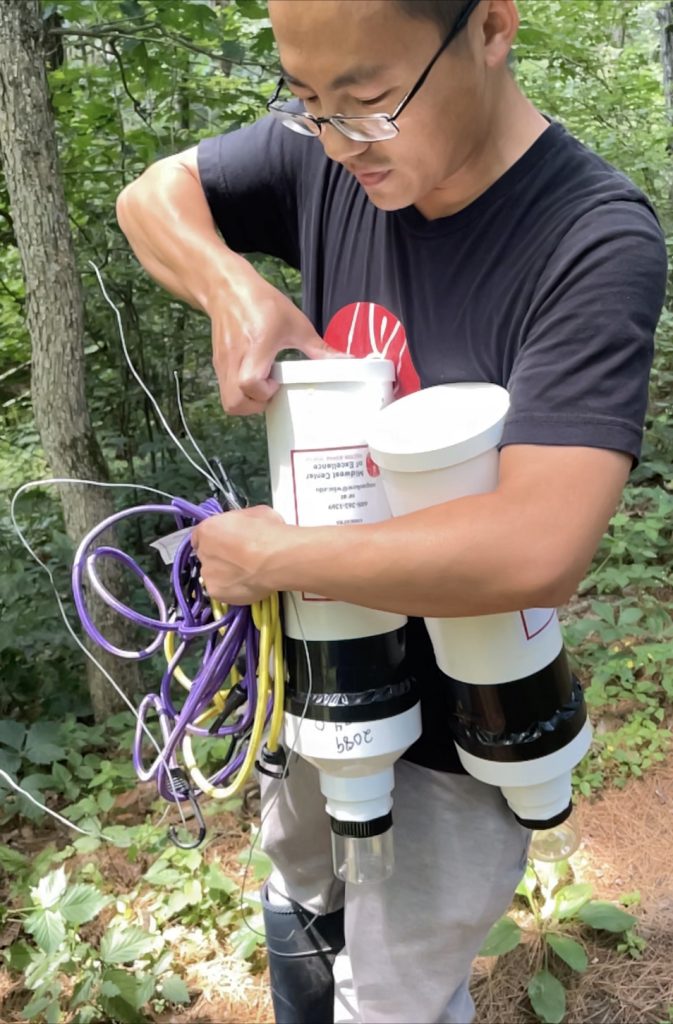 "We are more interested in learning about what it is that creates risk," says Lee. "For example, if you're out hiking into the woods and you stay on the trails, is that just as risky as if you're off the trails?"
"Some of our research has shown that you can get ticks on the pathways that you're walking on. But that depends on a couple of factors, you know, like what the makeup of that pathway is, whether it's just paved, cement, or if it's grass…there's a lot of things that go into the risk of coming into contact with a tick."
Lee intends to use results from his research on tick attachment behavior to design safer trail systems, as well as guidance for outdoor recreation. Lee says that his research will also contribute to new clothing and repellents that reduce the chances of tick attachments.
"How can we develop or how can we change our trail systems to make them less habitable for ticks in a sense, or make them less friendly for their questing behavior, so that even if they do get on to us, the chances of them staying on to us are much lower," says Lee.
Protecting yourself from ticks
Although the increasing tick population is daunting, we are far from helpless. In fact, there are a multitude of strategies for protecting yourself from ticks.
For those of us working in the field, Paskewitz recommends "treating your clothing with permethrin or buying the clothing that's already impregnated…because that will kill 90 to 95 percent of the ticks that get on the clothing before they have a chance to actually attach to you."
Amy Workman, the Director of Upham Woods Outdoor Learning Center, often advises the Center's visitors on tick prevention strategies.
"It's important to shower really well with some kind of abrasive sponge or a washcloth for the ticks that are so small that you may not be able to see them easily," offers Workman.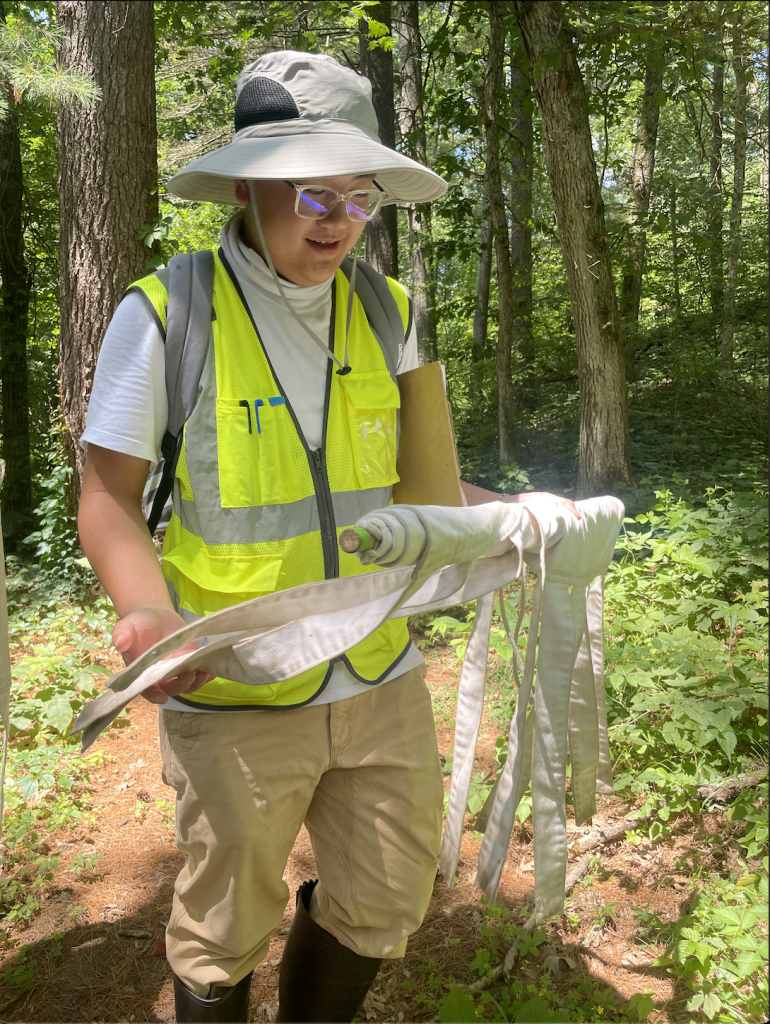 Other strategies involve wearing long pants and long-sleeved shirts, rubber boots, and getting into the habit of doing a "tick check" after a day in the field, which involves looking for ticks on your body and identifying them.
"Being able to correctly identify which tick bite you have is extremely important. And this is also important because of the recommendations for prophylactic [disease-preventing] [MW8] treatment of the tick bite," says Lee.
In Wisconsin, explains Lee, different tick species carry distinct pathogens. Wood ticks have a low risk of transmitting a disease, but deer ticks are much more likely to pass on a variety of pathogens, including those that cause Lyme disease.
"If you get bitten by a tick and it's been attached to you, and you remove it, you have about 72 hours to get prophylactic treatment," says Lee.
Outside of knowing how to correctly identify ticks, being able to spot them on your body or clothes is also very important. Adult ticks can be large and noticeable, but juvenile ticks, called nymphs, are the size of poppy seeds.
"You do sometimes have to train your eyes to see something really small. And we have found that a good majority of people can't spot these ticks. Or if they do, then they can't spot all of them…so the risk there is also being able to find them on yourself. And once you find them being able to identify what species it is," says Lee.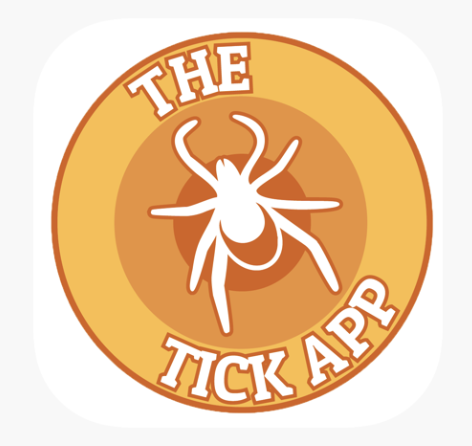 Another way to help protect yourself is to download the Tick App, a mobile app where you can report sightings of tick attachment and get the most recent updates on tick safety. You can also send in pictures of ticks and have them identified by professionals. Once submitted, scientists will use data from the Tick App to continue their research and increase tick safety measures.
"I think all audiences, whether youth or adults, tend to benefit from a reminder that ticks are present, and that they can carry bacteria that causes disease," explains Workman.
"We should all be vigilant and really mindful of checking ourselves to try to protect our own health, while at the same time not allowing that to prevent us from enjoying time spent outdoors in nature," says Workman.
Outside of research, scientists like Paskewitz and Lee are working on outreach efforts in the community to spread awareness of the dangers of ticks and also introduce safety practices to the public.
So, as you wrap up your fieldwork for the season, make sure to practice proper tick safety measures with yourself and your team. Visit the Tick App and its resources to learn more about ticks and help contribute to research!